West Bend
From Classic Boat Library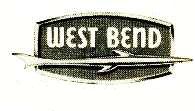 Additional History needed. Please contact us if you would like to edit this page.

Outboard Motor Division
West Bend Aluminum Co.
Hartford, Wisconsin
West Bend Outboards were also sold as Elgin Outboards by Sears, Roebuck, & Co. up through 1959. In that year, Elgin began selling Scott outboard motors as Elgins. The West Bend "Shrimp" was the only model kept in the Sears lineup for a few more years. West Bend also operated an outboard factory in Barrie, Ontario for Canadian production of West Bend outboards. In 1959, they first began offering their single-lever remote control, the "Synchro-Drive", which allowed control of both throttle and gear shifting with only one lever.

West Bend continued making outboard motors well into the 1960's and even offered a Shark-o-Matic sterndrive package using the block of the 80 HP Tiger Shark outboard motor and a proprietary sterndrive. This was similar to OMC's use of the V-4 engine block in their sterndrive package. A 1964 brochure lists this sterndrive as supplied to the following manufacturers: Aero Craft Boat Co., Aero Marine Development Corp., Aluma Craft, Atlanta Boat Works, Atlantic Boat Builders, Atlantic Fiberglass, Inc., Bay Marine, Bee Craft, Broadwater Boat Co., Brunswick Boats, Carri Craft, Carver Boat Co., Classic Marine, Crestliner, Custom Craft Marine Co., Inc., Cutter Boats, Dorsett Marine, Duo Boats, Duracraft Boat Co., Inc., Everle Boat Co., Flare Fiberglass Boat Co., Fleetcraft, Inc., Glassmaster Plastics Co., Harbin Boat Works, Hydroswift Corp., Industrial Marine, Larson Boats, The Laurel Corp., Lone Star Boat Co., MFG Boat Co., Midwest Marine, Midwestern Industries, Monark Boat Co., Moorhead Plastics, Owens Boats, Penn Yan Boat Co., Pipestone Sales Co., Renken Boat Mfg. Co., Spicer Marine, Spirit Lake Boat Co., Sport Craft, Inc., Sportster Mfg. Co., T&T Boats, Thompson Bros, Tomahawk Boat Co., Traveler Mfg. Co., U. S. Marine, and Western Marine Supply

In January 1965 the outboard motor business of the West Bend Company was bought by Chrysler Corporation and reorganized into the Chrysler Outboard Corp. (Jan. 8, 1965 Wall Street Journal).

Service Information

1957 Info:

1958 Info:

1959 Info:

1960 Info:

1960 West Bend Ads

1961 Info:

1964 Info:

1964 Sterndrive Info: