Pipestone
From Classic Boat Library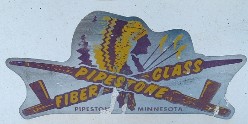 History Needed. Please contact us to edit or contribute to this page.

Pipestone Sales Co.
Pipestone, Minnesota

Listed in 1960 as Elmer N. Olson Co. of 500 S. Eleventh St. Minneapolis, Minnesota.

Pipestone Sales Company got its start in selling and producing fiberglass boats because of Art Olson's efforts in Slayton, Minnesota. See the article below for a detailed history.

History by Andreas Jordahl Rhude
Pipestone boats were made in Pipestone, MN. There first boats in the 1950s were actually molded by another firm in Slayton, MN.
There was a fire at the Pipestone boat plant on Saturday 20 December 1969. It destroyed a small portion of the facility. They were actually moving most operations to new buildings that were under construction at that time. So it only slowed them down for about one week.
In August 1967 Pipestone Manufacturing Company (maker of Pipestone boats) was sold to Puratronics, Inc. of Minneapolis. Production remained in the city of Pipestone. In October 1967 Puratronics bought Midwest Marine, Inc. of Red Wing, MN. This firm made the "Mariner" brand of fiberglass boats. Mariner was merged with Pipestone. Puratronics bought Lange Manufacturing, Inc. of Pipestone in February 1968. One of their lines were accessories for boats. Puratronics agreed to buy the Gray Marine Engine firm in March 1968.
In April 1968 Mariner production was moved from Red Wing to Pipestone and the company became Pipestone-Mariner Fiberglass Corporation. Puratronics sold the boat business in February 1969 to local Pipestone investors. Les Lange became president.
The boat firm was merged into Countryside General, Inc. in May 1970. The Pipestone Area Development Corporation foreclosed on Countryside General's property in October 1971. A year later Countryside General decided to get out of the boat business. The boat operation was adjudicated bankrupt on 16 October 1972 and property was sold by the bankruptcy court auction in January 1973.
Bayliner Minnesota, Inc., a division of Advanced Outboard Marine moved into the facilty and started making Bayliner boats. The first Bayliner boats were shipped out of Pipestone in February 1973.
Bayliner at Pipestone suffered a major fire on 14 May 1985. They rebuilt. In 2008 Bayliner permanently closed their boat manufacturing operations at Pipestone.
The weird thing is that in April 1973 Les Lange started building "Pipestone" brand name boats again under the Lange Fiberglass firm name. Lange died on 21 November 1973 and I think that was the end of that boat venture.
History

Model Information

1960 Information

1965 Information