Scott Atwater
From Classic Boat Library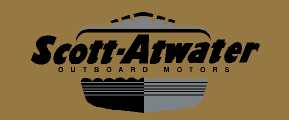 History needed. Please contact us if you would like to edit this page.

Scott-Atwater Mfg. Co.
Minneapolis, Minnesota
Later purchased by McCulloch Corp. in April 1956, this company began selling their own line of outboard motors in 1946. The founders previously manufactured outboard motors for Champion (Outboards) before forming the Scott-Atwater Mfg. Co. After purchase by McCulloch, Scott-Atwater Mfg. Co. continued on as a subsidiary with H. B. Atwater as president. Later on, this was renamed Marine Products Division of the McCulloch Corporation. Firestone helped the newly organized firm get its start with a major contract to produce "Firestone" branded outboard motors for sale through Firestone dealers. Scott-Atwater brand outboard motors were sold through a separate dealer network.

The model introduced in 1946 was a 3.5 HP OBC Certified motor in standard and deluxe styles. Deluxe included an automatic recoil pull starter; standard was rope start. The following year a 7.5 HP model was added.

In 1948, the 3.5 HP was upgraded to 3.6 HP and a new "Speed Designation" was introduced. For instance the 3.6 HP model was also labeled the 1-12 because of its ability to idle down to speeds of 1 MPH or less and also achieve a top speed of 12 MPH on a small, lightly-loaded planing hull.

Scott-Atwater is notable because this company in 1949 first introduced outboard motors with forward, neutral, and reverse (F-N-R) gear shift. Prior to this innovation, operators had to start the motor in forward and swivel the outboard 180 degrees in order to reverse. F-N-R shifting was introduced simultaneously in three new models, the 4 HP 1-14, 5 HP 1-16 model, 7.5 HP 1-20 model. The non-shift 1948 3.6 and 7.5 HP motors were continued on in production, for a total of six models available in 1949.
---
Model Numbers
From 1946 to 1951, three-digit model numbers began with the model year (47, 48, etc.), and a number suffix corresponding to the motor style, roughly following this scheme:
0 - Standard Single (rope start)
1 - Deluxe Single (automatic recoil pull start)
3 - 7.5 HP Twin
6 - 30 HP Twin
7 - 5 HP Twin
8 - 10 HP Twin
9 - 16 HP Twin


An exception is 1946 in which "461" was a standard single, "467" a deluxe single. In 1949, the 48- models carried on with only the shift models receiving the "49" prefix. In 1950, the standard single "500" was a 3.6 HP 1-12 non-shift but now with a recoil starter; the 4 HP 1-14 F-N-R shift was the deluxe single for that year, "501".

From 1952 on, a four-digit model number was instituted. First number, "3" was for Scott-Atwater, "2" for Corsair. Second number was for motor size, using the above numbering scheme. The last two numbers referred to the model year in reverse, for instance "35" was 1953.
---

Scott-Atwater outboard motors were also sold by chain stores as Hiawatha (Gambles stores), Wizard (Western Auto stores, and Elgin (Sears, Roebuck & Co.). Both the Skelly Oil Company and the Pure Oil Company sold re-branded Scott-Atwater motors under the Corsair brand beginning in 1948.

1950 was the first year for the 16 HP 1-30 model which came with a separate fuel tank, also a first. In 1951, a 10 HP 1-25 model with integral fuel tank was introduced.

In 1953, Scott-Atwater introduced their "Gold Pennant" 7.5 and 10 HP outboard motors with twist-grip tiller throttle control as well as the previously introduced F-N-R gear shift. These motors had a stylish motor hood with gold coloring and separate 6-gallon fuel tanks. 1954 saw the introduction of the Bail-A-Matic, a bilge pump accessory attached to and operated by the outboard motor.

For the 1956 boat show circuit, Scott-Atwater commissioned Charles Clarke to design a series of seven concept outboard motors. Existing only on paper, these motors exhibited unique forms of propulsion and power sources including sound waves, hydrogen, solar energy, radial, and turboprop engines (Aug. 20, 1956 Sports Illustrated; Feb 3, 1956 Chicago Tribune). Sports Illustrated asked Brooks Stevens to design a equally innovative line of outboard motors and all the concept motors were shown together in a 1956 Sports Illustrated article (Aug. 20, 1956 Sports Illustrated).

For 1957, Raymond Loewy designed motor covers for the range of Scott-Atwater models. For the 40 HP model, motor covers were available in a range of six colors. These included Seagull White, Yachtsman Grey, Aqua Blue, Fleet Red, Mahogany Brown. The Royal Scott model had the exclusion option of the Sand Dune Gold color. In 1958, Scott-Atwater received an award from the Fashion Foundation of America for the styling of their outboard motors.

In 1957, McCulloch Company of Canada built a $2.5 million plant, 100,000 sq. ft. in Toronto to build Scott-Atwater outboard motors and McCulloch chainsaws for the Canadian market. Clyde A. Kinzey served as vice-president and general manager of the Canadian operations. Three models each of outboard motors and chainsaws were to be made in the Canadian plant. Sales expanded that year as well with Norman C. Owens, sales vice president, adding new wholesale distributors for 1958: Mytelka & Rose, Inc. (Newwark, NJ); Roskin Bros., Inc. (Albany, NY), Carolina Sales Corp. (Greenville, NC); Timberland Saw Co. (Little Rock, AR).

January 1958, the "Flying Scott" outboard speedboat driven by Danny Foster sent an unofficial straight-away speed record of 95 mph at Fort Loudon Lake in Tennessee. It made the rounds of the boat show circuit in the spring of 1958. The successor, "Flying Scott II" was built at International Boat Co in Baltimore, Maryland. Both boats were powered a unique outboard motor made of two Scott-Atwater 60 HP powerheads joined together, side-by-side, and rated at 126 HP. The original boat was designed by Bill Tenney and built by Shorty Fillinger of Kansas City, Missouri. Testing had been done at Lake Mead, California but lake conditions were such that another course had to be found (Outboard Boating, 1958).
Service Information
---
Information by Year
1947 Information:

1949 Information:

1952 Information:

1953 Information:

1954 Information:

1956 Info:

1957 Information

1958 Information:
1958 Scott Atwater in Wico Ignition Ad

1959 Information

1960 Brochure:

1960 Guide to Scott Outboards

1960 Scott Dealer Display

1960 Distributor Packet
1961 Information: