Brooks Stevens
From Classic Boat Library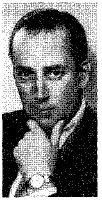 Additional History Needed. Please contact us to contribute to or edit this page.

Clifford Brooks Stevens
Brooks Stevens Associates
Milwaukee, Wisconsin

Clifford Brooks Stevens, more often known just as Brooks Stevens, was a noted industrial designer who made many contributions to the recreational boating industry throughout his career. Based in Milwaukee, Wisconsin, his firm, Brooks Stevens Associates employed artists and designers including James D. Floria, John J. Hughes, and Anthony Reed (Jan 11, 1950 Chicago Tribune). Notable clients included the Outboard Marine Corporation, Owens Yacht Corp., and the Vollrath Company.

Some achievements include many of the postwar Evinrude, Gale, OMC store brand outboard motors and the line of Evinrude concept boats introduced annually at the New York Boat Show. This list includes the 1956 Lark, 1957 Fisherman, 1958 Station Wagon, 1959 Evinrude Housefloat, and 1960 Jetstream, and 1961 Heli-Bout. Other contracts include deck styling for the 1958 Cutter/Owens Boats and sliding hard-tops for these models, as well as styling for Vollrath marine hardware. Notably absent in this listing is Johnson Motors; these motors were designed by Dave Chapman, Inc. of Chicago, Illinois.

For more information on the range of products designed by Brooks Stevens, browse the 7000+ records in the Milwaukee Museum of Art's Brooks Stevens Archive: http://archive.mam.org/brooks-stevens/search.php?type=highlights

Evinrude Concept Boats

Cutter/Owens Boats

Outboard Motors

Boat Hardware