Duo
From Classic Boat Library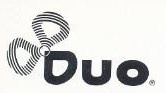 Duo Boats
Duo Marine, Inc.
Decatur, Indiana

Some history of Duo Boats is contained within the Thunderbird Boats page. Following is the relevant information from that account:
In 1958 Vic Porter began building and selling small fiberglass runabouts, enjoying success largely in the Midwest and Northeast. This boat line was developed early in marine fiberglass technology, and with Porter as president, was marketed under the Duo, Incorporated name. Because of its timely product and increasing popularity, Starcraft, a larger regional boat manufacturer, purchased Duo in 1966. For a time, Porter stayed on as president of Duo.

Bangor-Punta corporation came to own Duo Marine as well as Starcraft, Luhrs, O'Day, Seagoing Boats, Jensen Marine, and Rent-a-Cruise of America.

Model Information

1965 Information

1966 Information

1967 Information

Unknown Year

1969 Information

1971 Information

1973? Information

Misc Information