Aluma craft
From Classic Boat Library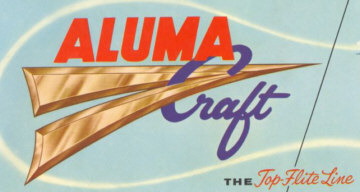 Historical information needed. Please contact us if you wish to contribute or edit this page.

Aluma Craft Company
1555 N.E. Central Ave.
Minneapolis, Minnesota

Flour City Ornamental Iron Co. of Minneapolis was the original producer of Aluma Craft Boats. The company made architectural metal work in addition to boats when purchased in 1960 by Hupp Corporation for an exchange of stock worth about $2,650,000 according to a Nov. 14, 1960 article in the Wall Street Journal. At the time Flour City Ornamental Iron had three plants and 375,000 sq ft of manufacturing space in the Minneapolis area, $10 million in sales, but a net worth of $4.3 million. The company would be operated as a subsidiary of Hupp and boats produced nationally in Hupp plants. The Aluma Craft division was sold in 1962 to Alpex Corp. of Rochester, New York for more than $2,000,000 listing as reasons the accelerated costs and trouble of improving distribution and marketing (August 14, 1962 Wall Street Journal).

In 1958, the sales department of Aluma Craft was reorganized with Howard Griffin was promoted to Director of Sales and Advertising from sales manager. Gordon L. Nelson filled in behind him as sales manager, Burt Pelkey appointed as sales promotion manager, Sig Gram as assistant sales manager. Pelkey and Gram were to continue handling dealer relationships in their new positions.
Model Information
Model Information (ABOS Publishing)

Model Information (Sheler Publishing)
1949
1949 Info:
1951
1951 Info:
1954
1954 Info:
1957
1957 Info:
1958
1958 Brochure:

1958 Ads and Other Info:
1959
1959 Catalog/Brochure:

1959 Miscellaneous
1960
1960 Brochure

1960 Miscellaneous
1963
1963 Info
1964
1964 Info
1968
1968 Info
1969
1969 Info