Laurel
From Classic Boat Library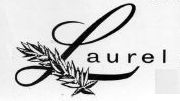 History Needed. Please contact us to edit or contribute to this page.

Laurel Boats
The Laurel Corporation
Shippenville, Pennsylvania

This manufacturer is known from a 1960 brochure and pricelist and existing boat believed to be a 1959 model. In 1962, The Laurel Corporation was taken over by McCreary Tire and Rubber Co. of Indiana, Pennsylvania (see news article below). More information will added as it is made available.

1960 Information

1962 Information

1963 Information