North American
From Classic Boat Library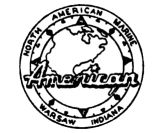 Additional History Needed. Please contact us to contribute to or edit this page.

North American Marine, Inc. (Division of Luther Corp.)
Warsaw, Indiana
Bob Meyer moved North American Marine & Manufacturing from Rockford, Illinois to Warsaw, Indiana continued there until 1959 (Warsaw Times-Union, Jul. 3, 2003). In 1956 and earlier, the North American or American Boats were branded as Admiral Boats. In 1956, Twin Coach Co., maker of Fageol marine engines bought the boat-builder, then known as United States Outboard Inc. At the same time, Fageol bought a boat trailer manufacturer (Luther Corp.), also located in Warsaw, and organized the boat operation under Luther Corp. Luther Corp. was a Wisconsin corporation and by far the larger manufacturer; they made chainsaws in addition to their Luther "Sport Trailer" division. Their Wisconsin location was in Williams Bay, Wisconsin. Luther Corp. was officially renamed as North American Marine, Inc. on March 6, 1959. Al Reque was general sales manager for the North American Marine division in 1957.

In 1959, North American Manufacturing Corp. was organized to produce Elgin Boats for Sears, Roebuck, and Co. This company produced boats for both North American Marine, Inc. and Sears. This company was shortly bought by Whitehouse Boat Company of Fort Worth, Texas. After the sale, boats were still produced for North American Marine and for North American Manufacturing with logos similar in design, but some had "North American Manufacturing" and a larger "American" text. On October 25, 1960 North American Marine, Inc. became "Industrial Marine, Inc." and boats had a decal with the letters "I.M.C." Industrial Marine survived the demise of Whitehouse and was merged into Central Standard Industries Corporation on March 22, 1965. Boats were labeled beginning about 1966 as "North American of Indiana". We know this because of a trademark dispute which resulted in Central Standard Industries losing the right to the North American trademark (case decided Sept. 30, 1970).
North American Boat Corp. of 3338 S.W. 2nd Ave., Ft. Lauderdale, Florida was the winner of the trademark dispute and is an entirely separate company. It started operations in 1963 (See trademark registration and model information).
From at least 1965 to 1970, North American Boats were made by Central Standard Industries of Warsaw, Indiana. For at least 1971, the North American Boats made in Indiana were branded "Royal American" and produced by R.P. Applications of Warsaw, Indiana. See the Model Information section below:
Model Information

1957 Information

1958 Information

1959 Information
Trademark Registration