Seaprufe
From Classic Boat Library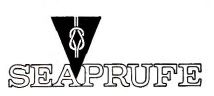 History Needed. Please contact us to edit or contribute to this page.

Seaprufe Marine Hardware
Special Products Division
Cooper Alloy Corp.
Hillside, New Jersey

According to the 1960 ad below, this line of hardware was designed by Raymond Loewy, known for his design work with Scott Atwater outboard motors and Dorsett boats.

1960 Information