Fleetform
From Classic Boat Library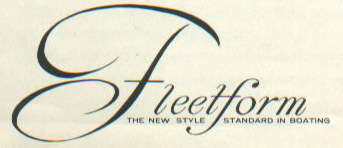 Additional History needed. Please contact us if you would like to edit or contribute to this page.

Fleetform Corp.
P.O. Box 4106
Fort Worth, Texas
Additional Plant Location: Saginaw, Texas

Samuel P. Owen was president of Fleetform Corporation and later on was affiliated with Glass Magic, Dunphy, and Trailcar. First boats were sold in late 1956

This company made a few fiberglass inboard boat models. At least one model was available with the Universal Unimate Four, a 65 HP inboard installation. One of the Fleetform inboard models was found with a tag reading "Manufactured by Inboard Marine Corporation, 2940 Chesser-Boyer Rd., Fort Worth, Texas." The connection of this company with Fleetform Corp. is unclear. Please contact us if you are able to shed some light on this relationship.

In 1961, a reference was found to Fleetform boats offered by Continental Marine Corp., 605 Longyear Bldg., Minneapolis, Minnesota. Apparently this was a distributor for Fleetform and Corsair Boats and Retriever Boat Trailers.
Model Information:

Unknown Year Info

1957 Info

1958 Brochure

1958 Dealer Letters

1958 Miscellaneous

1959 Info

1960 Info

Misc Info