Universal
From Classic Boat Library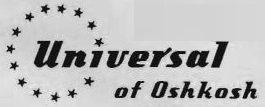 Additional Information Needed. Please contact us to edit or contribute to this page.

Universal Marine Engines
Universal Motor Company
664 Universal Drive
Oshkosh, Wisconsin

This company advertised they have been building marine engines since 1898. Eventually Norseman Marine was a subsidiary company. The company was most known for the Atomic 4, a compact four-cylinder motor for inboard applications. It was very popular as a sailboat auxiliary motor. A range of models were made for Universal's Aqua-Pak V-Drive. Besides engines for propulsion, they made a range of motors for marine electrical plant applications. In 1956, Univeral bought the gasoline engine division of Nordberg Manufacturing Co. of Milwaukee, Wisconsin, thereby adding to its line of 6-cylinder engines. This line was renamed by 1958 to Norseman Marine. The company stopped selling inboard/outboard drive packages in 1968 when Volvo stopped supplying outdrives, instead selling exclusively to Chrysler. They were packaged with a Buick V6 marine conversion, the Sabre/Super Sabre.

In 1961, Universal was bought by J. M. Nash Co. of Oshkosh, Wisconsin.

More history can be be found here: http://www.shadowmagic3d.com/BlackSwan/5uh.html

1956 Information

1957 Information

1958 Information

1959 Information

1960 Information