Norseman Marine
From Classic Boat Library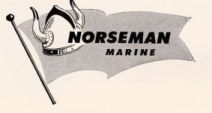 Additional History Needed. Please contact us to edit or contribute to this page.

Norseman Marine Engines
107 Nevada St.
Oshkosh, Wisconsin

Norseman Marine began with Nordberg Manufacturing of Milwaukee, Wisconsin. Universal Motor Company bought the gasoline engine line of Nordberg in 1956. This line was renamed and organized as Norseman Marine for the 1958 model year.

Introduced in 1958 the Norseman Outboard Z-Drive, an early sterndrive unit matched with an inboard marine engine. Their first offering was the Z-70, a four-stroke, 4-cylinder 140 Cu. In. model. Other offerings included marine engines from 23 to 155 HP. In 1959, Universal Motor Co., the parent company of Norseman Marine, offered the Universal-Norseman Aqua-Pak engine, a V-drive marine engine package available in 30 to 165 HP sizes.

1958 Information

1959 Information

Miscellaneous