A plethora of new features! Here's a quick guide to getting started: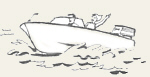 Login, or create an account
Edit your profile (left, User Menu, "My Glassic Profile"), fill in information about you including selecting the boats that you own and upload photos to "My Boats".
If you want your boats to show in the scrolling menu on right, edit your profile and enable gallery plus Access Mode should be set to "Allow Public Access".
If you have questions, look in the forums for technical support.
We encourage you to become a contributor to this site. You can submit articles to appear and also become an Editor in the Library(wiki). As this is an interactive site, feel free to submit content through the "Contact Us" link on the left.
Go to the Library and find the brochures!