Tee Nee
From Classic Boat Library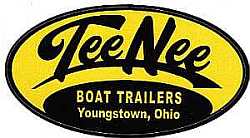 Additional History needed. Please contact us if you would like to edit or contribute to this page.

Tee Nee Trailer Company
215 E. Indianola Ave.
Youngstown, Ohio

Operating in Canada as Canasco Products Ltd., 1 Parnell Ave. Toronto.

According to a May 14, 1959 article in the Wall Street Journal, Robert Crossman was a vice president of the Tee Nee Trailer Company. In 1958 the business sold 168,000 trailers, compared to 5,200 "a decade ago".

In 1959, Tee Nee introduced the "Flightlight Fin" Fender, a fabulous trailer fender. This fender had a small tailfin extending back from the crest of the fender's arch, housing the rear light. Only Gator offered a comparable highly-styled fender. This was the 20th anniversary year for TeeNee Trailers, putting their start about 1939.

1950 Info:

1953 Info

1956 Information

1957 Information

1958 Information

1959 Information

1960 Information

1961 Information

Unknown Year