Sandusky
From Classic Boat Library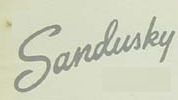 History Needed. Please contact us to edit or contribute to this page.

Sandusky Boats, Inc.
Foot of E. Washington
Sandusky, Ohio

Formerly Sandusky Boat Co., superseded by Russell Boats, Inc. on Jan. 1, 1956. Later merged with Marine Development and Research to become Sandusky Boats, Inc. A fire destroyed their operations in 1957, but they rebuilt and offered seven models of molded plywood boats in 1958. John B. Russell Jr. was company vice president and sales manager in 1958.
Model Information

1957 Information

1958 Information

1959 Information