Roberts Kit Craft
From Classic Boat Library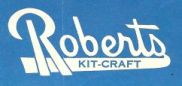 Additional History Needed. Please contact us if you wish to contribute or edit this page.

Roberts Kit-Craft
Roberts Industries, Inc.
303 Main St.
Durham, Connecticut

Later located at Post Rd. Branford, Connecticut. This company offered a range of boat as kits, semi-complete, or completed boats. This included many sail boat models such as the Roberts Sea Shell prams, Blue Jay (designed by Sparkman & Stephens), Penguin (Phil Rhodes designed), and Gypsy classes.

Model Info

1951 Info

1957 Info

1958 Information

1959 Information