Perko
From Classic Boat Library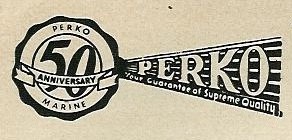 Additional History Needed. Please contact us to contribute to or edit this page.

Perko Marine Hardware
Perkins Marine Lamp and Hardware Corp.
1951 Pitkin Ave.
Brooklyn, New York

Location later listed as Miami, Florida. Like its competitor, Wilcox-Crittenden, this company offered versions of its catalog targeted towards different boating groups. In 1958, this was a 75-page catalog for small outboard and inboard boats; a 200-page catalog for all boats; and a 260-page general marine catalog.
1957 Info:

1958 Info:

1959 Info:

1960 Info:

1963 Info: