Hydrojet
From Classic Boat Library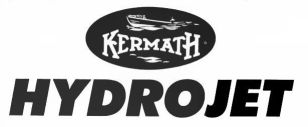 Additional History Needed. Please contact us to edit or contribute to this page.

Hanley Hydrojet, Inc.
Prospect, Ohio

Keenan Hanley of Prospect, Ohio formed Hanley Hydrojet, Inc. to produce his design for a water jet. Finding an early market in military applications, he partnered with Kermath Mfg. Co. of Detroit, Michigan to produce a commercial design for recreational boating. Shown on the 1953 boat show circuit, a 17' runabout installed with the Hanley-Kermath Hydro-Jet and a Kermath 61 HP Sea Jeep engine was advertised to produce 1000 gallons per minute water flow and extend only 3.5 inches below the hull.

Eventually known as the Model 60 Hydrojet unit, Kermath promoted the unit as an installation for 17 to 21-foot utility and runabout boats. It is unclear how many Hydro-Jet units were sold, or even the final spelling of the name!

Hanley later partnered with Glass Marine Industries to produce an 18' fiberglass jet-propulsion runabout. This venture fell through as allegations surfaced that the company misused $500,000 in stock sale receipts for purposes other than the primary goal of building boats and propulsion units.