Garform
From Classic Boat Library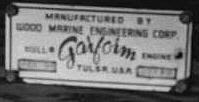 Mr. Garfield A. Wood, Jr., son of the famous Garfield A. Wood of Garwood Boats, and himself a noted racer, started making fiberglass boats in Tulsa, Oklahoma in 1947. The company name was Wood Marine Engineering Company. The first boat made was an outboard, 16'-6" long. An inboard model came later. By 1950 they had made 2,000 boats.

This information was found in "Heart of Glass: Fiberglass Boats and the Men Who Made Them" by Daniel Spurr.
The following history is thanks to Lee Wangstead: In May of 1960 Morris Mizel bought the remaining assets of the Garform Corporation and in July of 1960 reorganized it into the Starfire Boat Corporation of Tulsa, Oklahoma. In February of 1961 he took the company public to raise needed capital to expand the line. In early 1962 they unveiled a line of 6 runabouts in 15, 17, and 19' lengths.

1947 Info

1949 Info

1959 Info