Dundee
From Classic Boat Library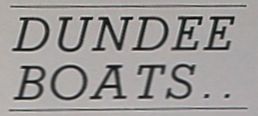 History Needed. Please contact us to edit or contribute to this page.

Dundee Boats
Dundee Boat Company, Inc.
72 Bigelow Ave.
Dundee, New York

This appears to be yet another of the many wood boat builders once located in the Northeast. A presumably early brochure lists Edwin R. Kellogg as proprietor.

Model Information

1958 Information