Century
From Classic Boat Library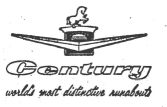 Additional History Needed. Please contact us if you wish to contribute or edit this page.

Century Boat Co.
Overlakes Corp.
Manistee, Michigan

The Century Boat Co. was purchased in November 1929 by George G. Eddy who engaged John L. Hacker to design a line of outboard and small inboard boats. Hacker's son, John A. Hacker was elected president of the corporation (April 1930 MotorBoating)

In 1951, the Century Boat Co. acquired the Overlakes Freight Corp., an inactive operating entity of the Nicholson-Universal Steamship Company (The Fleet Histories Series, Freshwater Press, 2003). The Century Boat Co. was then re-organized as a subsidiary of the Overlakes Corp. In 1958, Cruis-Along Boats was acquired and added as another subsidiary.

In both 1957 and 1958, a stock 22' Century Raven mahoghany lapstrake boat with a Dearborn Interceptor 150 HP engine set new records for the Miami to Bimini, The Bahamas and the Key West to Havana single engine marathon races. See 1958 article below.

For the 1962 model year, Century discontinued the Palomino and Roan outboard boat models, and with no new outboard boat models to replace them, this put Century entirely into the inboard and sterndrive boat segments of the industry.

Model Info
1956 Info

1957 Info

1958 Info

1959 Info

1964 Info