Arrow Glass
From Classic Boat Library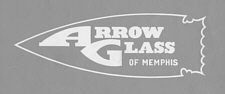 History needed. Please contact us if you would like to edit this page.

Arrow Glass Boat & Mfg. Co.
1371 Farmville Rd.
Memphis, Tennessee

Co-owners Mike Ossario and Harry Schmeisser began Arrow Glass in 1959 when they purchased a "garage operation" which was building a 13 1/2' boat for Western Auto.

A bit from a trade Magazine:
Model Information