Welcome to FiberGlassics®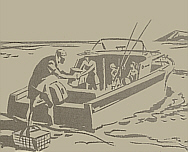 In July 1998 this site began an attempt to recognize the style and creativity of the original fiberglass boat designs from the 50's & 60's, plus capture the spirit of a time that has since past. This site honors the pioneering minds that conceived and created these beautiful, never to be made again, classic fiberglass boats. 

Within this site, you will find information on classic fiberglass boats. There are many sections. All libraries, pictures and information are FREE. Enjoy your time here.
We had a great day out on the Illinois River in Channahon at the Big Basin Marina. Mother Nature cooperated and we had perfect weather for a boat show and cook out.

Our host Tom Arambasich with his sister Pam aboard "Aprils Ring" after a high speed spin out on the Illinois.

Tom, thanks for your efforts to make this fine event happen and I hope to participate again next year.

Toms 1987 Switzer GL21 with OMC V8 with a yet to be verified HP rating of somewhere in the 250 range.

Also owned by Tom is this 2008 replica of an 1965 Switzer Playboy "Glory Daze"

Originally titled: Windshield 102 One More Time! 


John Gambill (JAG)

As some of you may know, I purchased this winters project a couple of months ago but told Julia
I wouldn't get started on it till first snow. But, I have been prepping things a bit and since the
windshield on my 59 Cutter JetDeville has two pretty good cracks in it have been on the hunt for
a replacement.