Welcome to FiberGlassics®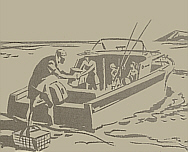 In July 1998 this site began an attempt to recognize the style and creativity of the original fiberglass boat designs from the 50's & 60's, plus capture the spirit of a time that has since past. This site honors the pioneering minds that conceived and created these beautiful, never to be made again, classic fiberglass boats. 

Within this site, you will find information on classic fiberglass boats. There are many sections. All libraries, pictures and information are FREE. Enjoy your time here.
Hello all,

Our gathering of old friends and new friends and classic boats in Beloit was great fun. We had a good turnout of FGC members and many others as well. Good weather and the hospitality of the Star Zenith Boat Club added to a most enjoyable weekend on the Rock River in beautiful Wisconsin.

Originally titled: Windshield 102 One More Time! 


John Gambill (JAG)

As some of you may know, I purchased this winters project a couple of months ago but told Julia
I wouldn't get started on it till first snow. But, I have been prepping things a bit and since the
windshield on my 59 Cutter JetDeville has two pretty good cracks in it have been on the hunt for
a replacement.