Trailer Craft
From Classic Boat Library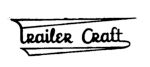 Additional History Needed. Please contact us to edit or contribute to this page.

Trailer Craft
Steelbilt Boats, Inc.
West Memphis, Arkansas

A Tennessee Corporation, Steelbilt Boats filed a trademark application in 1956 for inboard or outboard motor boats with retractable wheels. The application listed Jan 6, 1955 as the first use of the mark in commerce. No other information is available at present.

In May 1965, a Thompson Boat Works of Isleton, California advertised its Steelbilt custom boats in MotorBoating magazine.