Tracy Marine
From Classic Boat Library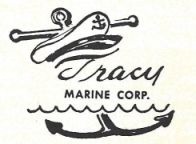 Additional History Needed. Please contact us to edit or contribute to this page.

Tracy Marine Corp.
7 Canal St.
Middletown, New York
This company apparently had operations at South Renovo, Pennsylvania, having moved from Middletown, New York. The March 21, 1958 Express newspaper from Lock Haven, Pennsylvania reports 9 workers were employed building the Tracy "Diplomat", a 15' wood boat, at a rate of 15 per week. R.M. Richards was president of the company, J. W. Gullborg was treasurer. By April 10th, 11 workers were employed and a production rate of 2 boats per day were planned. Construction was of mahogany and fir plywood with white oak frames. A special water ski compartment was included in the design of the boats. A third article in the Express was published on May 5. The company had been building boats in Middletown with 20 employees, but Viclad Industries' Philip Baker had induced Mr. Richards to move to Renovo to occupy their empty plant (February 25, 1958 Lock Haven Express).

1958 Information