Super Craft
From Classic Boat Library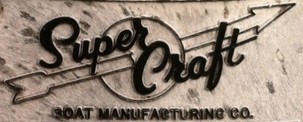 Additional history needed. Please contact us to edit or contribute to this page.

Super Craft Boats
Super Craft Boat Manufacturing Company
Fort Walton Beach, Florida

The following history was drawn from the newspaper articles below:
Super Craft Boats, originally in Tampa, Florida, was bought in 1965 by Gerald (Jerry) M. Cheatham. He moved the company to a new building in Fort Walton Beach, Florida. At this point Louie L. Dupree joined the company, eventually becoming Vice President. Having lost the original staff who didn't make the move to Fort Walton Beach, Jerry and Louie trained a new workforce, output 2 to 3 boats per day, and developed a 24' cruiser with twin 130 hp I/O motors for the New Orleans Boat Show. The company sold boats through Montgomery Wards and expanded distribution. Financial trouble developed when a loan from the Small Business Administration was delayed amidst the construction of a factory expansion and the company was purchased by Vitro Corporation in 1969. Super Craft continued with the same management but as a subsidiary of the Vitro Services Unit of Vitro Corp.

No original literature such as brochures or advertisements are available. If you have such materials, please contact us so that we can preserve and share the history of these unique boats.

Model Information

1967 Information

1969 Information