Sea Otter
From Classic Boat Library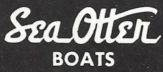 Additional History Needed. Please contact us to edit or contribute to this page.

Sea Otter Boats
Sea Otter Boat Company, Inc.
3265 W. Fullerton Ave.
Chicago, Illinois

Very little is known at present about this fiberglass boat-builder other than the model listing below. A double-sided ad flyer and company letter have been found indicating the company had operations in Chicago and Antioch, Illinois. Their boats may have been shown at the Chicago Boat Show in 1959. According to the 1958 article below, this company may have started in 1953. More information will be added as it becomes available.

Model Information

1958 Information