Pabst
From Classic Boat Library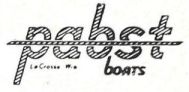 History Needed. Please contact us to contribute to or edit this page.

Pabst Boats Inc.
1648 Liberty St.
La Crosse, Wisconsin

"Pabst" Trademark Serial# 72083120 for use in Boats filed October 12, 1959, granted October 25, 1960 to Kirby N. Pabst. By 1958, this company was in business for more than 50 years according to the article below. Earlier this boat-builder was listed as a division of Blackhawk Corp. with address as 159 Morgan St., Rockford, Illinois.

Model Information

1958 Information