Orlando Clipper
From Classic Boat Library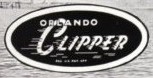 Additional History needed. Please contact us to contribute to or edit this page.

Orlando Boat Company
503 Elwell St.
Orlando, Florida

Trademark serial number 71652004, "Orlando Clipper", Goods & Services: Outboard Motor Boats. Filed August 18, 1953, registration date June 28, 1955 by Southern Lighting Mfg. Co., a Corporation of Florida, address 501-521 Elwell St. Orlando, Florida. This company first began making aluminum boats, then added fiberglass models in 1958. The fiberglass model was designed by Bob Hobbs (see article below).

Model Information:

1957 Information

1958 Information

1959 Information

1963 Information

1969 Information

1973 Information