Northcraft
From Classic Boat Library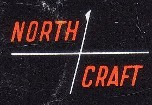 Additional History Needed. Please contact us to edit or contribute to this page.

Northcraft Industries Limited
Hawkesbury, Ontario, Canada
Northcraft Industries of Hawkesbury, Ontario, Canada (a/k/a Canadian Boat Mfg. (Northcraft) Ltd. listed at 843 Cameron Street in Hawkesbury, ON). In early 1969 it was owned by Giffen Recreation Limited, a subsidiary of Giffen Industries of Miami, Florida. Northcraft produced fiberglass runabouts such as the Dart V-14 and Pacer F-14. Giffen Recreation Ltd. also owned Princecraft and Peterborough boat manufacturers, as well as snowmobile manufacturers Moto-Ski, Boa-Ski and Sno-Prince. In October 1970 Giffen Recreation Ltd. was sold to Olin Corporation (of Olin Ski and Winchester Repeating Arms). The sale was reported as cancelled in December 1970. In June 1971, Giffen Recreation agreed to pay off creditors to avoid involuntary bankruptcy. At that time, they stated that they would concentrate on snowmobiles and aluminum boats. Horizon Industries and Resources Limited announced that they had purchased the assets of Canadian Boat Manufacturing and Northcraft Marine Ltd. in September 1973. Also in September 1973, Giffen reported that Horizon had defaulted on the sale, and that they would resume the operation of Canadian Boat Manufacturing. Post 1973, the Northcraft trademark was listed as being owned by Altra Marine Products Inc (65 Rue St-Henri, Princeville, PQ) who still makes Princecraft boats.

Sources: Montreal Gazette (Google News Archives): "Snowmobiles, Boats or Whatever, It's a Matter of Growth" (includes picture of Northcraft boat being built):
http://news.google.com/newspapers?nid=1946&dat=19700513&id=dHoyAAAAIBAJ&sjid=JrkFAAAAIBAJ&pg=1011,3459536
The Gazette (Google News Archive): "Giffen Sold; Russians buy snow vehicles":
http://news.google.com/newspapers?id=EZIuAAAAIBAJ&sjid=OKEFAAAAIBAJ&pg=986,4001487&dq=giffen+recreation&hl=en
The Gazette (Google News Archive): "Horizon":
http://news.google.com/newspapers?id=b08xAAAAIBAJ&sjid=26EFAAAAIBAJ&pg=6626,1750526&dq=northcraft+boats&hl=en
The Montreal Gazette (Google News Archive): "Giffen":
http://news.google.com/newspapers?id=phMyAAAAIBAJ&sjid=96EFAAAAIBAJ&pg=2588,3124830&dq=northcraft+boats&hl=en

Unknown Year