Mighty Mariner
From Classic Boat Library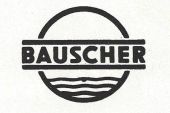 Additional History Needed. Please contact us to edit or contribute to this page.

Mighty Mariner Engines
Foremost Commodities Manufacturing Co., Inc.
228 Pennsylvania Ave.
Paterson, New Jersey

This company imported the German-made Bauscher tractor-drive engine-outdrive assembly for sale in the US. This was powered by an air-cooled Volkswagon or Porsche engine. Exhibited at the 1958 New York Motor Boat Show, it is unsure how exactly many were imported. The Volkswagon model was rated at 36 HP, the Porsche at 70 HP. 330 and 340 lbs, respectively, these were lightweight engines without the need for water manifolds and intake fittings.

1958 Information