Homelite
From Classic Boat Library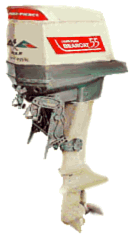 The Homelite 55 HP 4 Cycle outboard motor was introduced in 1961. Based on the Fageol outboard motor developed by Lou Fageol which itself was a derivative of the 44 cu. in. Crosley automobile engine, the Homelite 55 HP motor was much more successful than these previous ventures and was produced up to 1972. The motor was styled by Lippincott & Margulies, Inc. of New York (see press kit below). In 1966, Textron, Inc. sold the production rights of the Homelite 55 HP outboard to Richard Fisher of Boston Whaler Boats in 1966. The company, Fisher-Pierce, sold the motors as the Bearcat 55 HP and even developed an 85 HP model, introduced in 1970. More information will be added as it becomes available, otherwise please visit the link below:

As part of its introduction, Textron published a press-kit for the new Homelite 55 HP outboard motor. The press kit included a description of the outboard motor, an explanation of the novelty of the 4-cycle design in an outboard motor, testimonial by the Greenwich Police Marine Division, marketing and dealership plans, and a company profile of Homelite and Textron, Inc.

Service Information
---
Oct. 18, 1961 Introductory Press Release Kit
Thanks to Greg Anderson

Introduction of A New 4-Cycle Outboard

Marketing and Dealer Networks

Design Facts on the New Homelite 4-Cycle 55

Testimonial by Greenwich Police Marine Division

Advertising News Story

Facts on Textron, Inc.

Homelite Company Profile

Design Facts on the New Homelite 4-Cycle 55 - Styling and Specifications
---

Fall 1965 Internal Newsletter Thanks to Greg Anderson

Misc Information