Guy Lombardo
From Classic Boat Library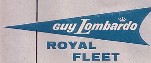 History Needed. Please contact us to edit or contribute to this section.

Guy Lombardo Boats
United States Boat Corp., Division of U.S. Pool Corp.
27 Haynes Ave.
Newark, New Jersey

The designs of Guy Lombardo Boats were licensed from Skagit Boats of Washington state.
One of Guy Lombardo's earlier forays into the recreational boating industry included a 1958 endorsement of Mercury Outboards which appeared in national advertising by the outboard motor manufacturer.

1960 Information