Glass Jet
From Classic Boat Library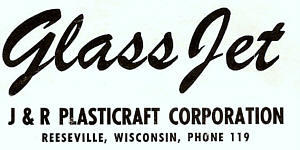 More history needed. Please contact us if you would like to edit this page.

J & R Plasticraft Corp.
Reeseville, Wisconsin

Quality Plastics, Inc. of Reeseville, Wisconsin is believed to have taken over boat manufacturing after J&R Plasticraft dissolved.

History Thanks to Brian Browning
It is believed the company was based in Watertown, Wisconsin before moving to Reeseville. After a split, the Mr. J of J & R Plasticraft might have moved operations to Waterloo, Wisconsin and Mr. R left the business to pursue other plastic molding business opportunities. The company is believed to have went bankrupt in 1961.

History Article

1957 Info

1958 Info:

1959 to 1960 Model Info