Glass-Fab
From Classic Boat Library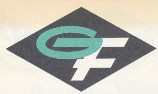 Please contact us to edit or contribute to this page.

Glass-Fab, Inc.
New London, Wisconsin

By Andreas Jordahl Rhude
28 October 2010

Glass Fab, Inc. began making fiberglass boats in the spring of 1965 at New London, Wisconsin. The firm was incorporated on 08 December 1964. The boat manufacturer got her start when investors in the Waupaca/New London area bought the assets of Mercer Boat which had been located in northwestern Wisconsin at Mercer. Ted Barth was at the helm of Mercer Boat.

Molds and tooling of Mercer Boats were moved to New London and set up in the old Kamke building on Shawano Street in New London. 2,400 square feet of space was occupied by the new boat works. The initial officers of the firm included Paul Kamke, president and general manager; Robert Roland, vice president; Barry Hammerberg, treasurer; and Ray Roe, secretary. Kamke was head of sales and Hammerberg was plant manager.

The initial products included small fiberglass boats and canoes, minnow tanks, chairs and silage carts. In addition to the old Mercer Boat spraying equipment, new spray machinery was added.

In July 1965 one of the first products to come out the door of the plant was a self motorized "boat" float for use in parades. In essence, a boat with wheels, the float had the words "Drop your anchor in New London" as a local city promotion. The Chamber of Commerce purchased the float.

With quick growth Glas Fab added 2,000 square feet of space to its operations in August. Five men were building fiberglass products. A canoe designed by Hammerberg was their best selling item. In November 1966 the company moved its plant to a brand new 11,000 square foot building on Beckert Road. Cost of the structure was $100,000 and a ribbon cutting ceremony was held on 13 December. Quadrupling of production was expected with the new space. A year later a 5,000 square feet of space was added to the plant. A new thermoforming machine was part of the expansion for use in making plastic components for other industries.

Business was good and another 22,000 square feet of factory space was added in 1969. Nine models of fishing and sport boats sold under the "Glass Fab" brand name were in their line at that time. The thermoforming line was quickly exceeding boat production. Only fifteen percent of sales were watercraft. Some of the other items included camper trailer roofs, snowmobile shrouds, instrument panels, sinks, tables, fender guards, bodies for amphibious vehicles, and silo roofs. Seventy workers were on the payroll before the expansion.

In June 1969 Glass Fab purchased Trail-It, Inc. of nearby Manawa. They made custom horse trailers and truck bodies.

The 1969 boat line consisted of small v-hull and cathedral hull outboard boats in twelve and fourteen foot lengths. A sixty pound duck boat of fourteen foot length was offered. Foam floatation was built in and a "dead grass" colour was standard. Red and white along with green and white coloured boats were optional. A kayak like sport canoe was available with or without a 40 square foot sail and leeboards.

Public sale of Glass Fab common stock was halted by the Wisconsin securities commissioner in August 1971. Financial losses were cited for ceasing the continued stock offer. Barry Hammerberg was named executive vice president and general manager in July 1971 in a move to bring the firm back into the black. One means to help the bottom line was sale of the Trail-It subsidiary for $45,000.

In December 1973 John Wilson started En Fab Corporation at New London to make fiberglass canoes and industrial components. Horse trailers roofs were another product. The company closed its doors in February 1975 citing slow sales.

A loss of $164,420 was suffered by Glass Fab, Inc. in 1975. Additional working capital was needed and sale of $50,000 worth of stock was authorized in April 1976. Boats were no longer a part of the product mix by 1977.

In 1980 Glass Fab, Inc. was merged into Penda Corporation of Portage, Wisconsin.

Glass Fab's U.S. Coast Guard manufacturer's identification code (MIC) was "GFB" starting in 1973 boat models.

Little is know about the boats built by Glass Fab between 1965 and 1977.


1969 Information