Flying Finn
From Classic Boat Library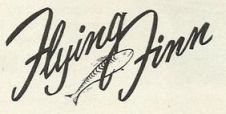 Additional History Needed. Please contact us to edit or contribute to this page.

Flying Finn, Inc.
527 Lexington Ave.
New York, New York

Flying Finn, Inc. - A Brief History, by Robert George:

My father Robert J. George and his friend Bill Kano decided sometime in the early 1950's to start importing wooden pleasure boats from Finland. Bill Kano had already been in the import/export business and thought they could profit from selling the standard Finnish built boat in the U.S. The history of boat building in Finland was legendary, going back to the Vikings. The wood used was a Finnish Pine, which was a harder, more resilient pine with lower sap content than the typical American Pine, ideal for boat construction.

The first boat to arrive in the U.S. was a well-made, hand-crafted, sea-worthy boat that lacked the American styling and was only designed for outboard motors up to about 7 1/2 horsepower. They decided that they liked the craftsmanship, but would need to start their own company and have boats built to their design and specifications in Finland. Their partnership founded:

Finnish Yachts and Boats, Inc.
122 East 42nd Street; New York, N.Y.

Their first order of business was to come up with a marketable boat that retained the Finnish style and craftsmanship. They retained Charles W. Witholz - Naval Architect to design their initial offering of boats. Called out as Witholz is one of America's most versatile naval architects in an A Unit of Water, A Unit of Time by Douglas Whynott. Charles with input from the company designed four boats (Seafin 18, Bayfin 17, Gulfin 15, and Elfin 14). The hull sizes were created for shipping economy (the 14' fit in the 15', which fit in the 17', and together they all fit in the 18' hull). The foredecks, seating, and windshield kits were shipped unassembled for fitting in the U.S. Shipping cost was figured by cubic feet taken in the freighter's hold, therefore it was the same cost as shipping one 18' boat. Deck hardware and other accessories were assembled in the U.S. before distribution to their boat dealers.

The name change to Flying Finn came before going to market in 1956:

Flying Finn, Inc.
527 Lexington Ave; New York, N.Y.
Six (6) years in business from 1956 to 1962

"Flying Finn" was the nickname for Paavo Nurmi, a long distance runner who won three gold medals in the 1920 Summer Olympics and five gold medals in the 1924 Olympics in Paris. The boat named for their national hero greatly interested the boat builders in Finland and production was underway.

FLYING FINN, INC
SUPPLEMENTAL HISTORY – The Company Demise

The company grew rapidly and after the 1956 NYC Boat Show they had numerous requests for a larger hull design. They contacted Charles Witholz to design the Seafin 21 to be included in the 1957 line of boats. The Seafin 21 was a big hit and after the boat was used in the 1958 U.S. Atlantic Tuna Tournament it was featured in Field & Stream's February 1959 issue.

The company continued growth rapidly through 1959 and they decided to introduce fiberglass boats into the line. They contacted Charles Witholz to design the "Bellefine" 16' to be included in the 1959 line of boats. The "Bellefin" was not a hit even though they recognized that fiberglass was the coming material for boat construction. The initial investment for fiberglass molds, etc. was not recovered in their first few years of sales and thus discontinued. This combined with a general decline in wood boat sales in 1962 caused the partners to come to the conclusion to dissolve the Company while it was still solvent.

I think it is interesting to note that their perceived competition the Lyman Boat Works and the Thompson Boat Co. also struggled in that period of time. Based on my memories and notes from this web site the following occurred:

Lyman Boat Works: Sandusky, Ohio. (Est. 1954 to 1969) manufactured lapstrake wood boats. The hull was a round bottom design and the laps were marine plywood fastened to ribs with clinch nails. The line up of boats in 1954 was 13' to 15' lengths, which they expanded around 1959 to include boats up to 23 foot. The company chose not to offer fiberglass and was closed in bankruptcy sometime in 1969.

Thompson Boat Co.: Cortland, N.Y. (Est. 1925 became an independent company in Jan. 1959) manufactured lapstrake wood boats. The hull was a round bottom design and the laps were marine plywood fastened to ribs with screws. The line up of boats in 1955 was 13' to 18' lengths. The company was purchased by Chris Craft Corp. in 1962. They introduced fiberglass boats in 1963.

I would like to include a few personal observations that now 50 plus years later, I feel are relevant to understanding Flying Finn's place in the history of boating.

The Nineteen Fifties sited often as the post WW II era of prosperity brought time for recreation and with it greater interest in boating. Flying Finn early on recognized the need for a more seaworthy small outboard boat. Their boat with its "VU" design (a sharp "V" bow to separate the waves and a "U" transom for greater planning speed) by Charles Whitholtz gave the boat superior handling in the rough East Coast Waters. Coupled with laps constructed of resilient hard Finnish Pine fastened to Oak Ribs with a copper spring head rivet gave the boat the ability to take the pounding of choppy waters.

A reflection on the Boat Dealers of that era is also essential to understanding the Flying Finn rapid growth. Boat Dealers/Boat Yards were always on the water with docking facilities and owners/managers who had a strong association with the Sea. (unlike today when being any where near water had no bearing on their sales in modern show rooms that more closely resemble Auto Dealership) As a group they were gentlemen who believed that their word was their bond and they were not prone to change the line of boats that they represented. Into that mind set came Flying Finn which was able to secure their business by bring a demonstrator boat to their yard and having them take a ride. Having taken demo boats to Dealers myself, I remember their comments about the superior ride, glasses staying dry and after a full speed hard helm all the way over turn with out flipping, They were convinced to take on the line.

The end of an era for people who loved wood boats was coming quickly in the late 1960s. Fiberglass boats had a hard sell initially as the true old school boat owner thought wood was the only material for a boat. The first fiberglass boats had problems with transoms that develop stress cracks with rumors of outboard motors falling off while under way. However, it was as today market shows, the best material for marine construction for its strength, low maintenance, etc..
Model Information

1955 Information

1956 Information

1957 Information

1958 Information

1959 Information

Misc Photos