Flotel
From Classic Boat Library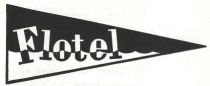 History Needed. Please contact us to edit or contribute to this page.

Flotel Division
Gennett & Sons, Inc.
1 Main St.
Richmond, Indiana

In 1958, this company offered three sizes of aluminum-hull houseboats from 21'8" to 32'8". These were available on a custom or semi-custom basis with bare hulls available also. This company offered the Seaesta Houseboat in 1959. Other than that, we don't have further information. Please contact us if you do, so that we may update this page.

1958 Information

1959 Information