Eaton
From Classic Boat Library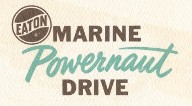 History Needed. Please contact us to edit or contribute to this page.
Eaton Powernaut Sterndrives
Eaton Mfg. Co.
Madison Hts, Michigan

Listed by 1964 as Dearborn Marine Engine Division of Eaton Manufacturing Company. Address was given as 7100 E. 15 Mile Rd, Warren, Michigan.

Along with Volvo-Penta, the Eaton Powernaut was one of the few sterndrive units available in 1961 and was tested in that year's June issue of Popular Science. One of the interesting features of the Eaton Powernaut was that it allowed the user to swing the lower unit 180 degrees until completely inverted. This allowed for greater ease in maintenance of the propeller. In 1961, the Eaton Powernaut was available matched with a Dearborn Interceptor 85 HP (144 cu. in) or 100 HP (170 cu. in).

1961 Information

1962 Information

1964 Information