Cruisers Inc.
From Classic Boat Library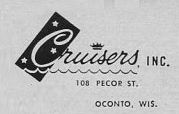 History Needed. Please contact us to edit or contribute to this page.

Cruisers Inc.
Oconto, Wisconsin

Cruisers Inc. began operations in 1953 and was related to Thompson Bros. Boat Mfg. Co. of Peshtigo, Wisconsin.
In the 1960's, Cruisers Inc. produced a line of tri-hull fiberglass boats licensed from Woodson Boats.

Model Information

1956 Information

1957 Information

1958 Information

1959 Information

1961 Information

1963 Information

1964 Information

1966 Information

Misc Information