Colonial
From Classic Boat Library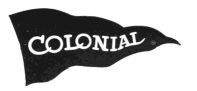 Additional History Needed. Please contact us to edit or contribute to this page.

Colonial Boat Works, Inc.
Millville, New Jersey

Also found listed as Colonial Boat Works of New York, Inc. This was an "affliate" of Worthington Products, Inc. It is unknown at this time the association of this firm with the long-time yacht builder in New Jersey.

Model Information

1957 Information

1958 Information

1959 Information