Carter Craft
From Classic Boat Library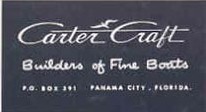 Additional History Needed. Please contact us to edit or contribute to this page.

Carter Craft Corp.
Panama City, Florida
Plant located in Parker, Florida

A 1953 trademark registration for Carter Craft plywood boats listed T. Y. Bingham as president and treasurer of Carter Craft Corp. Address was given as 2nd and West St., Parker, Florida. First use of the mark was given as July 1949. More information on the history of Carter Craft Boats is available at the Carter Craft Boat Registry.

When Carter Craft ventured into fiberglass hulls, U.S. Rubber supplied a special five-ply laminate material made of a "foam-plastic-rubber core", hard plastic-rubber outer layers, and a rubber skin. This provided built in flotation and insulation and was also used by the Thompson, Custom Craft, and Connecticut brands (February 1961, Popular Science).

The company changed its name to Carter Boats, Inc. in 1964 under new management. In 1965, a much smaller selection of models were offered.

Model Information

1956 Information

1957 Information

1958 Information

1959 Information