Carlisle
From Classic Boat Library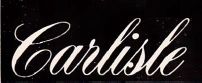 History Needed. Please contact us to edit or contribute to this page.

Carlisle Boats
Carlisle Marine Manufacturing Company
Division of Carlisle Laboratories
Yardley, Pennsylvania

The 1957 image below is an advertisement for the Aqua-Queen model by Carlisle, not to be confused with Aqua Queen Boats of Aurora, Illinois. This advertisement shows the Fageol VIP propulsion system. According to a Jan. 19, 1958 article in the New York Times, Carlisle offered five 1958 Royalty Line boat models: Aqua King, Aqua Queen, Nobleman inboard models and a Squire model available in outboard or inboard styles. Boats were made of African and Honduran mahoganies with marine plywood decks. Additional information will be added as it becomes available. Also found listed in Morrisville, Pennsylvania by 1958.

1957 Information

1958 Information