Bowman
From Classic Boat Library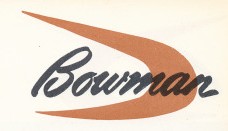 Additional History Needed. Please contact us to edit or contribute to this page.

Bowman Boats
Bowman Mfg. Co.
Lake Providence, Louisiana

Bowman Boats were made in Little Rock, Arkansas until March 16, 1957 when a catastrophic fire destroyed the manufacturing facilities. The company then re-located to Lake Providence, Louisiana. Bowman Boats first began in 1948 by H. A. McCune. He was president of the company also at the time of the fire.

Miami Marine Industries of Little Rock, Arkansas was an aluminum boat manufacturer and found listed as a division of Bowman Manufacturers, Inc. One model offered by this company was the "Alumni-Champ".

Geneva Marine Products was found listed as another subsidiary of Bowman Manufacturers, Inc. H.A. McCune was listed as president of Bowman, Pual H. Bowdle vice-president and sales director, T.G. Messel secretary and treasurer, Jim Cassil as another officer (The Standard Advertising Register, Vol. 43, 1958).

According to the brochures below, some fiberglass hulls were sourced from Goodyear Aircraft. The company stopped making boats after 1961.

Model Information

1958 Model Information not available.

1955 Information

1957 Brochure

1957 Pricelist

1957 Miscellaneous

1958 Information

1960 Information