Barbour
From Classic Boat Library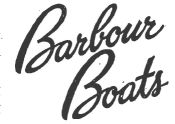 History Needed. Please contact us to edit or contribute to this page.

Barbour Boat Works, Inc.
518 S. Front St.
New Bern, North Carolina

"Barbour" Boats trademark registered November 12, 1957, filed October 5, 1956, lists first use in commerce as November 1932. By 1962, the company is found listed as producing boats on a custom-order basis only.

The following information was contributed by Andreas Jordahl Rhude:
Records for Barbour Boat Works, Inc. of New Bern, NC are located in the archives of East Carolina University in Greenville, NC. Records date from 1945 to 1971 and encompass 72 cubic feet of material. Information about these records can be obtained from the Manuscripts Collection, Joyner Library, East Carolina University, East Fifth Street, Greenville, NC 27858-4353
Trademark Registration

Model Information

1956 Information

1958 Information

1959 Information