Aqua-Glide
From Classic Boat Library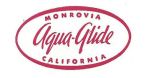 Additional History Needed. Please contact us to edit or contribute to this page.

Aqua-Glide Water Skis
Consolidated Research and Development Corp.
1530 S. Myrtle Ave.
Monrovia, California

Since 1955, this company made water skis, including standard, outboard, slalom, banana slalom, jumper, "360" trick skis, and children's pairs. Lines included Fabri-Gloss, Futura, Custom-Delux, and Capri skis. The Fabri-Gloss water skis were colored and patterned to match Jantzen swim suits, including the fabulous red plaid so popular in the 1950's.

1958 Information