American Marc
From Classic Boat Library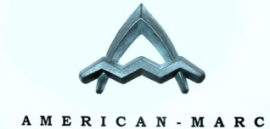 AMERICAN MARC Incorporated, 1601 West Florence Ave., Inglewood, Calif
By Bruce Gerard
American M.A.R.C. started out as a manufacturer of small, light-weight diesel engines that ranged from 1 H.P to 18 H.P. These engines were built for a variety of purposes from pumping water, to the generation of electric power. The majority of these engines were built for the U.S. Defense Department. In the late 1950s, the company began a public offering of shares in an effort to expand and improve production capacity and reduce manufacturing costs.
In an attempt to diversify it's portfolio, American Marc made the bold move to enter the boat manufacturing business. This foray into the consumer leisure market appears to have been very brief, lasting from 1959 to perhaps, the early part of 1961.
To design the new line of boats, American Marc chose an accomplished young naval architect named Blaine Seeley. Seeley attempted to create a variety of designs that would appeal to many different consumer profiles. Models ranged from the sporty "Stardust", a 15 foot two - seater, all the way up to the impressive "Marc 28" Motor Yacht, powered by twin American Marc diesel inboard engines.
One of American Marc's proudest achievements was the creation of the world's first (and most likely only) diesel outboard motor, the Marc 10. Producing just 9 horsepower, the Marc 10 was by far the heaviest outboard under 10 horsepower on the market. The company billed the engine as a safer alternative to gasoline powered engines, due to the fact that diesel fuel is less flammable. The buying public however, seemed far less concerned about the flammability of gasoline than the company had predicted. Few of the engines ever made it to market, and today, they are prized by collectors. END

The following is an excellent article on American Marc -
By Andreas Jordahl Rhude
American Marc, Inc. of 1601 West Florence Avenue in Inglewood, Calif. was a manufacturer of small diesel engines and generators. Some of their customers for diesel engines were inboard boat builders, both power and sail.
In May 1958 the company received a $2 million government contract for diesel engines.
In July 1959 American Marc purchased the Creger Marine firm, a builder of wooden power and sail boats ranging is size from 24 to 30 ft. Part of the reason for the purchase was as an outlet for the American Marc diesel engines. W. Denis Kendall was president of American Marc at that time.
A month later, in August 1959, American Marc purchased Rocket Marine, Inc. of El Monte, CA - a maker of small fiberglass boats. This became the fiberglass American Marc boat line.
About the same time, American Marc, Inc. introduced to the world what they claimed to be the first diesel outboard motor. The "AMARC 10" was rated at 7 1/2 HP.
In January 1960 American Marc made a deal with Craig Systems, Inc. of Lawrence, Mass. where Craig would make the fiberglass American Marc boat line for sale in 17 eastern states. In August 1960 Craig Systems leased a 50,000 sq.ft. complex in Haverhill, Mass. for the molding and assembly of the fiberglass American Marc boats.
Meanwhile, American Marc was building a new boat factory at 2601 Manhattan Beach Blvd. in Redondo Beach, Calif. It was opened in April 1960 and a news article claimed it had the capacity to make 12,000 fiberglass boats annually. In February 1960 the company announced it would build a $500,000, 40000 sq. ft. factory and showroom in Miami, Florida. This facility was scheduled to produce 6500 boats annually, bringing total company capacity to 18,500 boats (April 1960 Boat & Motor Dealer).
American Marc donated a 24 ft. boat with twin diesel inboard engines to the Long Beach community for use as a rescue boat and weather reporting station.
American Marc, Inc. was listed on the stock exchange and traded publicly. Rear Admiral (retired) Arthur W. Radford, former chairman of the Joint Chiefs of Staff, was named a director of American Marc in October 1960.
In February 1961 one of the American Marc 30 ft. catamaran power-sail boats capsized in the Pacific Ocean and two men drowned. One was an employee of the company and the boat was being brought to Santa Barbara to a dealer for demonstration purposes.
American Marc purchased three southern California oil drilling firms in December 1961.
Somewhere along the line American Marc, Inc. was purchased by Pike Corporation of America who then sold the company in December 1967 to Eon Corp. At the time, American Marc was building small diesel engines.
It appears as if the fiberglass pleasure boat operations of American Marc only lasted for 1 1/2 to 2 years. And they claimed to be able to make up to 18,000 boats a year with their California, Florida (don't think this ever opened for production) and Massachusetts operations. I doubt they made more than a few hundred boats as it turned out. END
---
Model Information

1960 Information

1961 Information
1961 Craig Brochure, page 1

1961 Craig Brochure, page 2

1961 Craig Brochure, page 3

1961 Craig Brochure, page 4

1961 Craig Brochure, page 5

1961 Craig Brochure, page 6