Wizard (California)
From Classic Boat Library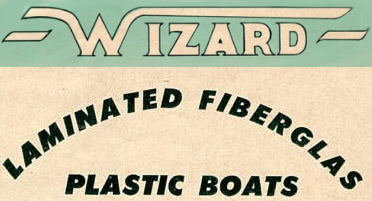 History Needed. Please contact us if you wish to contribute or edit this page.

Wizard Boats, Inc.
Costa Mesa, California

Additional plants located in Dickson, Tennessee and St. Joseph, Michigan. On December 30, 1959, Wizard was taken over by the Boat Division of Winner Manufacturing Co. and the boats marketed as "Wizard-Winner" for the 1960 model year. The Wizard Boats was originally founded by Curt Herberts, a capable, successful businessman and pioneer in the early years of the fiberglass boat industry. Thanks goes to the family of Curt Herberts Jr. for providing photos and information from the early years of Wizard Boats.

Much information is available about Wizard Boats, Inc., particularly from the early years because it was a publicly traded company with shares issued to support the business. For instance in 1950, the company turned a net profit of $20,925 in the first half of the year versus a loss of $6179 in the first half of 1949. C.A. Herberts was president at this time (July 23, 1950 Los Angeles Times).

Wizard Boats, Inc. in late 1953 landed a two-year contract to make fiberglass telephone booth domes through the Wavell Showcase & Fixture Co. of Long Beach, CA. This company made booths for many electric companies that were associated with telphone companies, including Bell, General Telephone, International Telephone & Telegraphy, and many more. Another contract was received to make fiberglass tanks for plating metals (November 6, 1953 Los Angeles Times).

In 1954, Harold Hauflaire became president of the company and the U.S. Bureau of Ships ordered 300 standard Wizard Resorter 15' boats (June 2, 1954 Los Angeles Times). Also late that year, the Michigan plant in St. Joseph began production. Boats were not molded there originally, they planned to add that capacity later in 1955 (Dec. 10, 1954 Los Angeles Times).

In 1955, Wizard received approval to build a 100x120-foot fiberglass boat manufacturing plant in Costa Mesa (Los Angeles Times, May 22, 1955).

In late 1956, Wizard Boats, Inc. was headed by Harold Haulflaire, president. As of November 7, they had a backlog of more than $500,000 in orders. About $250,000 worth was for Sea King Boats to be sold nationally through Montgomery Wards stores. The majority of these boats were to be produced out of the St. Joseph plant. Also, Wizard had a contract through Coleman Engineering of Los Angeles to produce fiberglass domes for missiles. A $271,300 Navy contract also had Wizard making molds and parts for 26' whaleboats (Los Angeles Times, November 7, 1956).

Wizard's big news in 1957 was the introduction of the 13' sporty Wizard "Wasp" runabout. Complete with tailfins, this was advertised as a deluxe sport runabout and came with two split curved windshields, all deck hardware, steering, and upholstered seats (Chicago Tribune, Feb. 8, 1957). A special "Fire-Gold" color effect was advertised for that year in addition to other regular pastel colors. This described as a gold-flecked finish for the deck of the boat (Los Angeles Times, Jan. 13, 1957).

In 1958, with a trade in stock, James S. Gallagher took over as president of Wizard Boats, Inc. from Harold Hauflaire who held that post for three years. Hauflaire had been with Wizard Boats for ten years total, previously serving as vice-president before that. Gallagher came to Wizard Boats from Interstate Engineering Corp. and was also on the board of directors of Harvill Die Casting Corp. of Los Angeles.

In 1959, Wizard advertised their re-designed new styling by Dean Myers of Newport Beach, California.

At an August 2, 1960 stockholder meeting, Wizard Boats of Tennessee Inc. officially changed its name to Winner Boats Inc. This was done partially to avoid confusion with Wizard Boats and Outboard Motors sold by Western Auto Stores which by legal action was prohibited from using the name "Wizard" on boats.
Model Information

1949 Info:

1953 Info:

1955 Info:

1956 Info:

1957 Info:

1958 Info:

1959 Info:

1960 Info:

1961 Info:

1962 Info: