Lathrop
From Classic Boat Library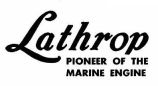 Additional History Needed. Please contact us to edit or contribute to this page.

Lathrop Engine Division
Burmeister & Wain American Corp.

The Lathrop Engine Co. of Mystic, Connecticut, a long-standing marine engine manufacturer (1897), eventually was bought by Burmeister & Wain, an even older Danish marine engine maker (1843). This formed the Burmeister & Wain American Corporation, located in Mystic, Connecticut.

1958 Information

1959 Information