Federal Propellers
From Classic Boat Library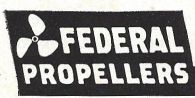 Additional History Needed. Please contact us to edit or contribute to this page.

Federal Propellers
Grand Rapids, Michigan

This company advertised its propellers were supplied as original equipment by Zobel, Shepherd, Mercury, Hubert Johnson, Stephens Bros., Higgins, Roamer, Chris-Craft, Matthews, Richardson, Colonial, Egg Harbor, Rybovich, Owens, Correct Craft, Trojan, Century, Huckins, and Lyman Boats.

1958 Information