Welcome to FiberGlassics®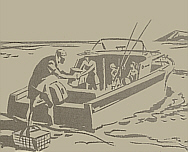 In July 1998 this site began an attempt to recognize the style and creativity of the original fiberglass boat designs from the 50's & 60's, plus capture the spirit of a time that has since past. This site honors the pioneering minds that conceived and created these beautiful, never to be made again, classic fiberglass boats. 

Within this site, you will find information on classic fiberglass boats. There are many sections. All libraries, pictures and information are FREE. Enjoy your time here.
THE ANTIQUE & CLASSIC BOAT SOCIETY, INC.

PRESS RELEASE

The Board of Directors of The Antique & Classic Boat Society (ACBS) announced today that it has approved a change in its boat classification structure and show eligibility criteria to include certain boats of a more recent vintage under the definition of classic boats. According to Teresa Hoffman, President of ACBS, "The classic boating hobby has evolved and changed considerably since the ACBS last changed these parameters in 2002". In keeping with the original vision of the founders of ACBS, many boats constructed between 1975 and the year 25 years prior to the current year will be considered as "late-classic". This new designation applies to both wood and non-wood boats. The new category excludes boats of a certain hull type such as pontoons, inflatables and small personal watercraft.

Forgotten Fiberglass and the Glasspar G2

I recently had the pleasure of meeting Geoff Hacker of www.forgottenfiberglass.com. The subject matter of his website is one all fans of Fiberglassics® can appreciate; his research - and love - of the little known and short lived one-off fiberglass car craze of the 1950s.

Originally titled: Windshield 102 One More Time! 


John Gambill (JAG)

As some of you may know, I purchased this winters project a couple of months ago but told Julia
I wouldn't get started on it till first snow. But, I have been prepping things a bit and since the
windshield on my 59 Cutter JetDeville has two pretty good cracks in it have been on the hunt for
a replacement.